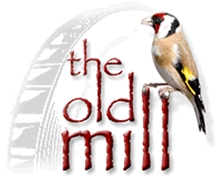 The Old Mill, Hoarwithy
Self-Catered Cottages
We have two self-catering cottages; Old Mill Cottage (sleeps 4) and Laundry Cottage (sleeps 2).
Although the cottages are designed for self-catering, it is only a short stroll across the road to the New Harp, which is open every day. The Lough pool and the Cottage of Content are also excellent pubs within 2 miles of the Old Mill.
Hoarwithy is approximately 5 miles from Ross-on-Wye and about 9 miles from Hereford. Our nearest shop is Wormelow, which is 3 miles away. I can arrange for milk and papers to be delivered.
Both cottages have access to wifi internet.
Old Mill Cottage
The Old Mill Cottage adjoins the main house and again features exposed original stone and beams. There is access to the lovely large front gardens for you to enjoy.
The cottage has two double bedrooms, one with a shower room and the other a bathroom. The spacious kitchen is well equipped with an oven, hob, microwave, dishwasher, iron and ironing board. Towels and linen are provided. The Old Mill Cottage is 3*.
Laundry Cottage
Laundry cottage is new for 2007 and is situated adjacent to the back garden of the Old Mill, Hoarwithy. It offers ideal accommodation for a couple looking for a quiet cosy but spacious holiday cottage suitable for a break at any time of the year.
The cottage has been traditionally renovated and furnished to a very high standard and is fully equipped. The kitchen is fully fitted including a dishwasher, microwave, washing machine and fridge freezer. The kitchen leads through an archway into a dining room/sitting room. The double bedroom is also on the ground floor with a large, fully tiled ensuite bathroom/ wet room with under floor heating. Bed linen and towels are provided.
Wooden stairs lead from the dining room to a light spacious upstairs lounge with two sofas and TV/DVD, overlooking the paved gardens and ponds. The garden attracts many wild birds all the year round. Laundry Cottage is 4*.
Old Mill Cottage Availability - 2021
| | | | | | | | | | | | | | | | | | | | | | | | | | | | | | | | |
| --- | --- | --- | --- | --- | --- | --- | --- | --- | --- | --- | --- | --- | --- | --- | --- | --- | --- | --- | --- | --- | --- | --- | --- | --- | --- | --- | --- | --- | --- | --- | --- |
| | 1 | 2 | 3 | 4 | 5 | 6 | 7 | 8 | 9 | 10 | 11 | 12 | 13 | 14 | 15 | 16 | 17 | 18 | 19 | 20 | 21 | 22 | 23 | 24 | 25 | 26 | 27 | 28 | 29 | 30 | 31 |
| Jan | | | | | | | | | | | | | | | | | | | | | | | | | | | | | | | |
| Feb | | | | | | | | | | | | | | | | | | | | | | | | | | | | | | | |
| Mar | | | | | | | | | | | | | | | | | | | | | | | | | | | | | | | |
| Apr | | | | | | | | | | | | | | | | | | | | | | | | | | | | | | | |
| May | | | | | | | | | | | | | | | | | | | | | | | | | | | | | | | |
| Jun | | | | | | | | | | | | | | | | | | | | | | | | | | | | | | | |
| Jul | | | | | | | | | | | | | | | | | | | | | | | | | | | | | | | |
| Aug | | | | | | | | | | | | | | | | | | | | | | | | | | | | | | | |
| Sep | | | | | | | | | | | | | | | | | | | | | | | | | | | | | | | |
| Oct | | | | | | | | | | | | | | | | | | | | | | | | | | | | | | | |
| Nov | | | | | | | | | | | | | | | | | | | | | | | | | | | | | | | |
| Dec | | | | | | | | | | | | | | | | | | | | | | | | | | | | | | | |
Laundry Cottage Availability - 2021
| | | | | | | | | | | | | | | | | | | | | | | | | | | | | | | | |
| --- | --- | --- | --- | --- | --- | --- | --- | --- | --- | --- | --- | --- | --- | --- | --- | --- | --- | --- | --- | --- | --- | --- | --- | --- | --- | --- | --- | --- | --- | --- | --- |
| | 1 | 2 | 3 | 4 | 5 | 6 | 7 | 8 | 9 | 10 | 11 | 12 | 13 | 14 | 15 | 16 | 17 | 18 | 19 | 20 | 21 | 22 | 23 | 24 | 25 | 26 | 27 | 28 | 29 | 30 | 31 |
| Jan | | | | | | | | | | | | | | | | | | | | | | | | | | | | | | | |
| Feb | | | | | | | | | | | | | | | | | | | | | | | | | | | | | | | |
| Mar | | | | | | | | | | | | | | | | | | | | | | | | | | | | | | | |
| Apr | | | | | | | | | | | | | | | | | | | | | | | | | | | | | | | |
| May | | | | | | | | | | | | | | | | | | | | | | | | | | | | | | | |
| Jun | | | | | | | | | | | | | | | | | | | | | | | | | | | | | | | |
| Jul | | | | | | | | | | | | | | | | | | | | | | | | | | | | | | | |
| Aug | | | | | | | | | | | | | | | | | | | | | | | | | | | | | | | |
| Sep | | | | | | | | | | | | | | | | | | | | | | | | | | | | | | | |
| Oct | | | | | | | | | | | | | | | | | | | | | | | | | | | | | | | |
| Nov | | | | | | | | | | | | | | | | | | | | | | | | | | | | | | | |
| Dec | | | | | | | | | | | | | | | | | | | | | | | | | | | | | | | |